I've heard it time and time again: "Why don't we learn more about personal finance in school?" There are generations of adults walking around wishing they had learned key financial literacy topics sooner, and maybe you're one of them!
If you had to figure out finances as an adult, you understand the importance of incorporating money discussions with your children from an early age. As you know, children are always watching. They feel when finances are tight, they see when financial goals are achieved, and they desire the shiny things money can buy. Talking to them about what they're observing can help support their understanding around money. Here are 5 ways you can foster financial literacy during childhood to create financially-literate adults.
1. Create financial goals together.
Are you saving for something big like a family vacation or a new car? Let the kids in on the fun of watching the savings account grow. Start by gathering together to create the goal, and use our One Big Goal worksheet to put ideas and inputs on paper. You can guide discussions on:
How much should we save for this goal?
When can we reach this goal? This is a great time to discuss income constraints and delayed satisfaction. Money doesn't grow on trees, right?
What can we give up in order to reach this goal faster?
How will we celebrate when we reach the goal? Will we celebrate big milestones along the way?
Then, use a savings tracker to visually show progress. Put the tracker on your fridge or in a common area in the house to keep up the excitement and momentum toward the goal.
2. Discover true costs.
It can be hard for children of any age to really grasp how much things really cost. This lesson often needs repeating and reminding as inflation fluctuates or income changes in the household. Take the opportunity to discuss needs versus wants with your children by challenging them to really consider everyday costs.
Take a tour around your house with this estimation game: From the toothpaste to the milk to the electronics and AC, ask your children how much they think everything costs.
At the grocery store, come prepared with a list and buy only the items that you need. Show your kids how we don't deviate from the list!
Discuss their favorite takeout meals and compare prices to make them at home.
Equate prices to working hours. For example, "This shirt is $30, which will require 2.5 hours of work to purchase."
3. Create a savings jar together.
Grab your creative hands and recycled salsa jars! You can create a visual savings tracker by painting and decorating an old jar. Either utilize the jar to collect coins, or use marbles and progress lines to symbolize progress toward a goal.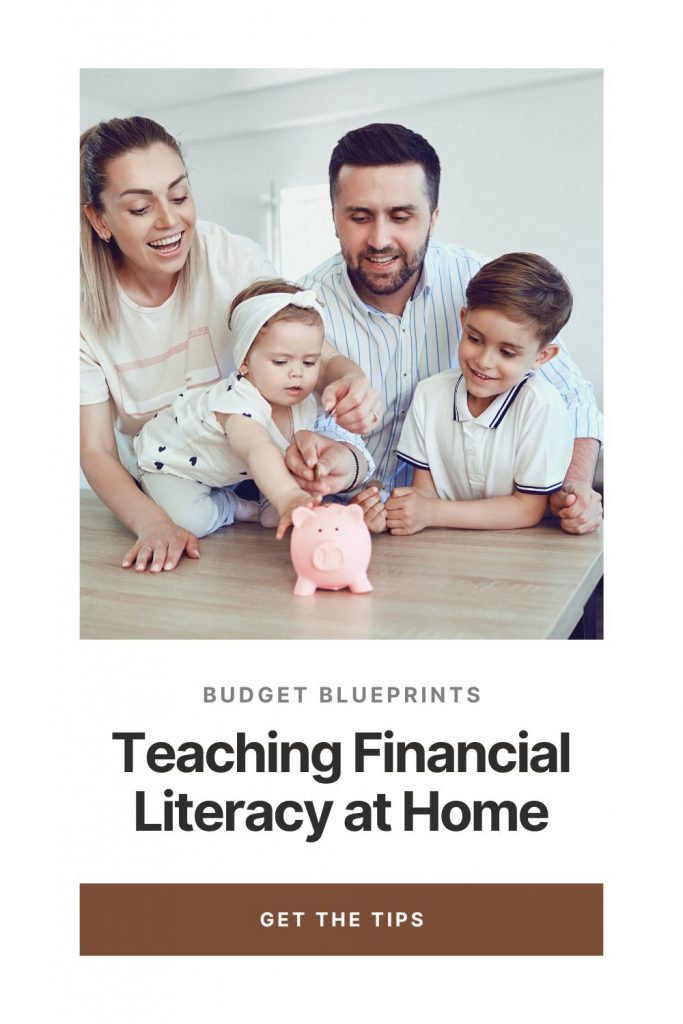 4. Complete a frugal savings challenge together.
We all get a little too comfortable in our budgets sometimes. Grab the kids and brainstorm ideas to challenge yourselves to spend less. Here are a couple ideas:
Complete a "No Spend" challenge.
Plan a month's worth of free family activities. With a little help, have each child brainstorm an idea for the family to do together that doesn't cost anything. Have the child plan and implement the activity from start to finish.
5. Encourage hands-on involvement.
Finally, anything that you do financially can be a teaching moment! Whenever possible, invite your child to join in on your financial to-do items.
Show them the cash in your wallet.
Take them to the bank and explain each process.
Let them lick the envelope seal on the bill.
Invite them to sit in on a monthly budget meeting.
Educate them on the financial professionals (advisors, accountants, etc.) who help you manage finances.
Financial literacy can be overwhelming, especially considering the number of topics to master. The task of teaching the next generation can naturally make us feel stuck with where to start. I want to encourage you to remember that good financial foundations are built over time. Every time you include your child in your day-to-day money management, they're learning. So, start small, and celebrate the little wins. Increased financial literacy is possible for our future generations, and it's possible for YOU.