Hi there! Happy fall!
I love fall. I have always had the hardest time figuring out which season is my favorite. All seasons bring unique strengths to our world. From the blooms in the spring, to bright, crisp snow in the winter, each holds its own beauty. However, I think that fall is my favorite season (for now, at least)! I just decided this based on two things —caramel apples and fall outfits!
If you catch me anytime in October in the grocery store, you'll probably see a caramel apple (or two, let's be honest) in my cart. They. are. so. good. Seriously, caramel apples are my addiction.
But anyway…
My other favorite part of fall is the fashion! The boots, the sweaters, the layers! All of it is so nice and cozy — I just love it! Unfortunately, my budget does not always like my taste for 100 new sweaters every year. So how do you stay trendy and up-to-date without breaking the budget? Try a few of these tips below!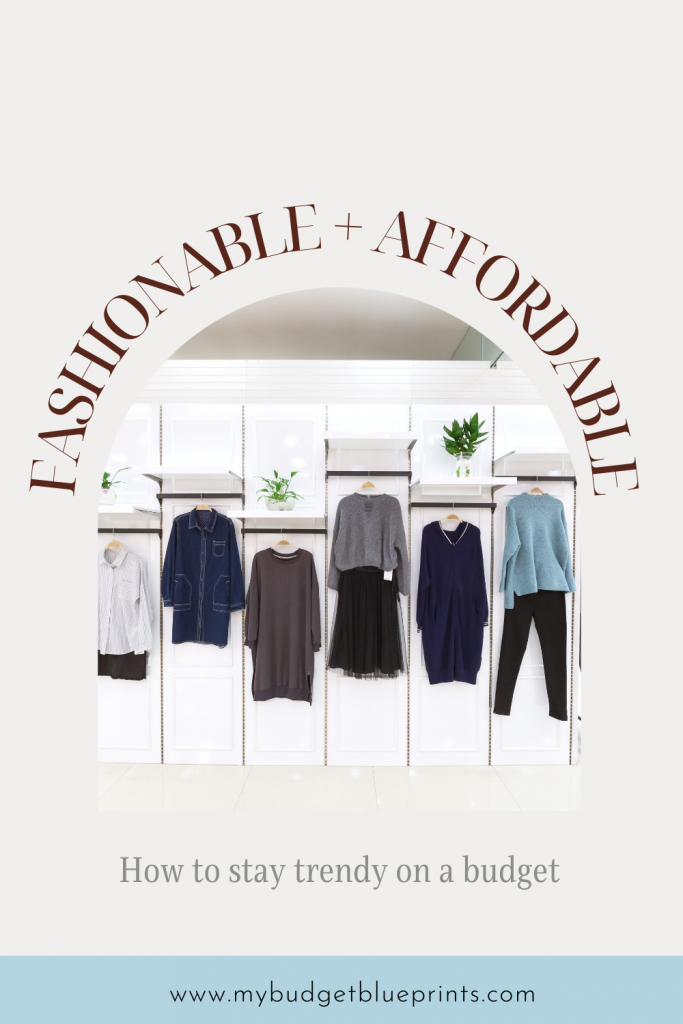 1. Decide what you need FIRST. This is the most important tip! Have a plan for what you will buy before you walk into the store. Although it's super fun to aimlessly shop, don't do it! Before you just blindly walk into the shoe section and buy the whole left shelf, do a quick closet clean out and see what you actually need. For example, I am on a mad hunt this season for riding boots. Mine are falling apart and making my toes ache, so I am being strategic to find ones that are cute and comfortable. Sure, I could walk into any store and buy the first pair I see, but instead, I am being picky to make sure I get the ones that will last and also fit my budget.
I know what you're thinking; I've been there. I go in for my one item and then all of a sudden I have four more items in my basket with "no idea" how they got there! Clothing stores can be dangerous even when you are there for a specific item. To avoid extra impulse spending, ask yourself these three questions:

1. Is this in my budget?

2. Do I really NEED this item?

3. Will I wear this item enough to justify the cost?
2. Check the sales. Seems obvious, but there are a ton of holiday sales going into fall! You've got back-to-school sales, Labor Day sales, Columbus Day sales, and more! Seems like there is a sale every weekend in the fall! Be on the lookout for what you need (*ah-hem* see point one) and then hunt a few different stores to see which has the best deal on that item. Be patient. Good deals will come; just keep your eyes open!
3. Download the apps. It's no secret that our world of technology is ever-changing, and so is the way that companies market to us. Download your favorite store apps to earn extra shopping perks like free shipping, discount codes, and earn points and rewards on future purchases. Or, skip the big box stores and find a small business app! I am obsessed with a Georgia-based overstock boutique called Fashion Ten and Trends! They bring in tons of deals on women's clothing for just $10 and several discounted current-trend items. Download the app and use my referral code GMMYREF for 40% off your first purchase!
4. Follow those who hunt sales. Facebook really is a great tool. Besides following the official store pages to watch for in-store sales, consider following some personal blogs that keep you up-to-date on the deals! A few of my favorites are Just Posted, Clothed in Grace, and Simply Becca. These ladies take to the stores and try on new styles, scour the ads, and always have the coupon codes! You just see something they have on, click their link and it takes you straight to that item, WITH A DISCOUNT. Could shopping be any easier??
5. Ditch the mall. Instead of shopping at name-brand stores, try some overstock stores! TJ Maxx, Marshalls, or Nordstrom Rack help you find in-season styles for a lower cost. Want even bigger price tag cuts? Skip the big box stores completely! Check out your local thrift stores, clothing swaps, or consignment shops. You can often get gently-used items for a great deal. If you prefer online shopping, try apps like Poshmark and Mercari to grab some gently-used items for a steal. Plus, you can sell your old items on there! It's a win-win. 
There you have it! Some tips to help you stay on budget while shopping in the store, and online! Do you have any shopping hacks that keep you looking trendy while on a budget? Share below!