Happy December! It is so hard to believe that this year is drawing to a close and Christmas is already upon us! Isn't that how it usually goes every year though? It seems that Christmas always sneaks up on us, our calendars, and especially our budget. How is it that Christmas and all of the expenses that go along with it surprise our budgets? It happens on the same date every year! You would think by now our budgets would be lying in wait for this time of year, just oozing dollars out of the gift fund the second December 1 rolls around. But every year, Americans overspend on holiday shopping. In fact, a study from Christmas 2017 said that it will take 3 to 5 MONTHS to pay down the Christmas debt racked up on our credit cards (MarketWatch, 2018). And, two years later, I assume Christmas 2019 is only racking up more debt. Isn't that just insane? Why do we jeopardize our financial goals, values, and priorities for one day a year?
Now, I'm not mad at Christmas. I love this time of year. If you met my mother, you would know that I basically bleed Christmas. I love buying gifts, decorating, everything. It's great. What isn't great is when we are not smart about how we enjoy the holidays. Let's change the narrative for the holidays this year and for the future. Let's do Christmas on a budget. Check out these 6 tips and resources to truly "sleigh" the holiday budget.
1. Open a Christmas Club savings account. The best time to plan for Christmas isn't in November or December but in January. That's right: JANUARY. Start saving early by taking advantage of Christmas-specific savings tools. Most banks have a super cool program called Christmas Club accounts. This separate savings account, which you deposit money into each month, builds until around mid-November or so, when the bank automatically transfers the lump sum to your checking account or mails you a check. Voilà! Christmas is planned! No last-minute scramble for cash and no extra consumer credit card debt.
This is my first year saving early for Christmas. It was so nice going into Black Friday knowing exactly how much money I had to spend on Christmas items —not to mention I also got my shopping done early.
Note: You do not have to specifically set up a Christmas Club account each year to start saving early for Christmas. You can do so within your regular savings; you just have to remember your tally and transfer it over yourself when you are ready to shop.
2. Plan your expenses. Now, you might be thinking, Well, gee, a Christmas savings account is a good idea, but it's December and I don't have that money set aside. That's okay! Luckily for you, January is right around the corner, presenting a perfect time to set up an account and save for 2020 Christmas.For now, focus on strategically planning your December budget to take care of this Christmas.
List out your regular monthly budget and anticipated extra spending on Christmas-related items. Be specific. Include gifts, wrapping materials, travel, meals, charitable giving, etc. Christmas expenses are not only about the gifts, so be sure to grab your calendars and plan for all of those extra celebrations and associated costs. Click here to snag a copy of my Holiday Budget Planner to help you.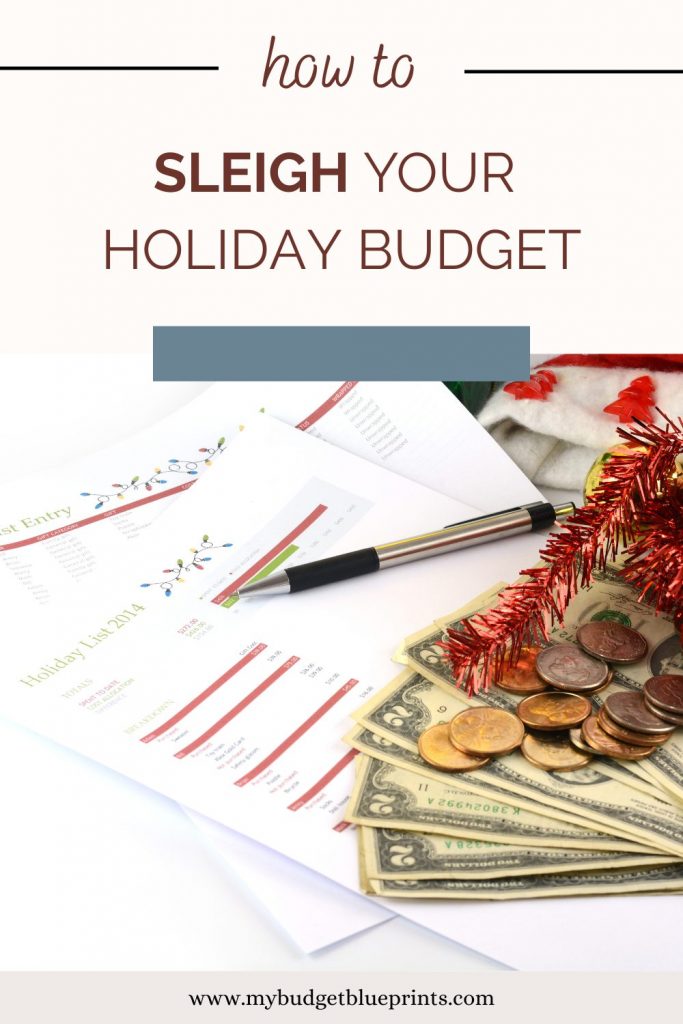 3. Prep for budget adjustments. If your budget is coming up short on cash this Christmas, consider grabbing a seasonal job to increase income. Or think of ways to decrease the number of recipients on your shopping list.
If you have a large family, think about drawing names out of a hat for a gift exchange instead of buying for everyone. You could also try an online gift exchange program like Elfster. Perhaps you take it a step further and consider a theme each year. Something like, all gifts this year have to be homemade, or all gifts have to be thrifted. That helps everyone get creative — either by hand or by thought — without having to spend a lot.
Got a lot of siblings? Consider going in together and splitting the cost on a gift for mom and dad. Think of one nicer item or perhaps a weekend away. What if you bought them a family picture package? The ideas are endless when you put your heads together!
4. Be intentional instead of material. I love the hunt for that perfect gift and watching the joy on my family members' faces on Christmas morning; however, let's not forget that material gifts are not the entire Christmas celebration.
Often, many more memories are found in sharing meals, family time, and activities than in a material item. Perhaps we change the way we give gifts and thus, alleviate some of the monetary pressure associated with Christmas.
Instead of buying your 5-year-old nephew an expensive toy he will be bored with a week after Christmas, could you plan a fun day out at the zoo instead? Or instead of getting grandma another blanket (even though she likes to be cozy), you could get her tickets to a live theater show. Experiences could be bought in the form of a gift card to unwrap at Christmas or simply as an "I owe you" for a later date. This could help spread out the cost of Christmas past December if cash is tight right now.
5. Stick to your plan to avoid overspending. Once you have decided how many gifts (material or not) and amount of holiday extras you will need, fill out the Holiday Budget Planner and keep it near and dear for the next month.
https://www.tiktok.com/@thehoneybeebudgets/video/7032078401204964655?lang=en&is_copy_url=1&is_from_webapp=v1
When shopping, be sure to know what you are going to buy before you walk into the stores or click on an online ad. Once you have an idea for a specific gift, try and find the best deals on it. This may uncover extra savings. You may find that you budgeted a super cool $50 gadget for dad, but by Black Friday, it's on sale for only $30. That's $20 back in your pocket by just having a plan and doing a little searching with laser focus.
---
---
6. Be aware of advertisements. Social media presents great deals, but it can also trigger impulse spending. Be vigilant against the thousands of ads and sales you'll encounter during the holiday season. Retailers want you to keep shopping all the way through New Years with Black Friday, Cyber Monday, and everything in between. Remember, the retailers are not on your side to help accomplish your Christmas shopping. They want to derail your holiday budget and will use as many red tags and "% off" banners as needed to get the job done.
However you choose to spend Christmas, whether at home or away, with gifts or with experiences and meals, don't let the holiday season surprise you. Plan ahead, be strategic, and most of all, don't be afraid to get a little creative this year.
Do you have a fun holiday tradition or money-saving tip that you want to share? Let me know in the comments below! Merry Christmas!