I love traveling and dream of traveling the whole world someday. But, of course, I always try to vacation on a budget! My husband and I usually plan a weekend getaway each year to celebrate our wedding anniversary, which is coming up this summer. Nothing too big or extravagant, just a getaway to focus on us and reflect on our prior year of marriage. Plus, a getaway within driving distance eliminates added expenses on car rentals and airfare. For year one, we stayed in a treetop cabin in the Ozarks. For year two, we hopped in the SUV and headed south to Texas! Year three, well…that was 2020 so we partied hard in our living room.
Anyway…
Extensive research into every detail of our trips is half the fun of traveling for me! To stay on budget while in Texas, I created a vacation budget to keep on track. It was a hybrid between an itinerary and a spending plan. It worked so well that every future trip will rely on this budget method. You can grab our Vacation Budget Planner here.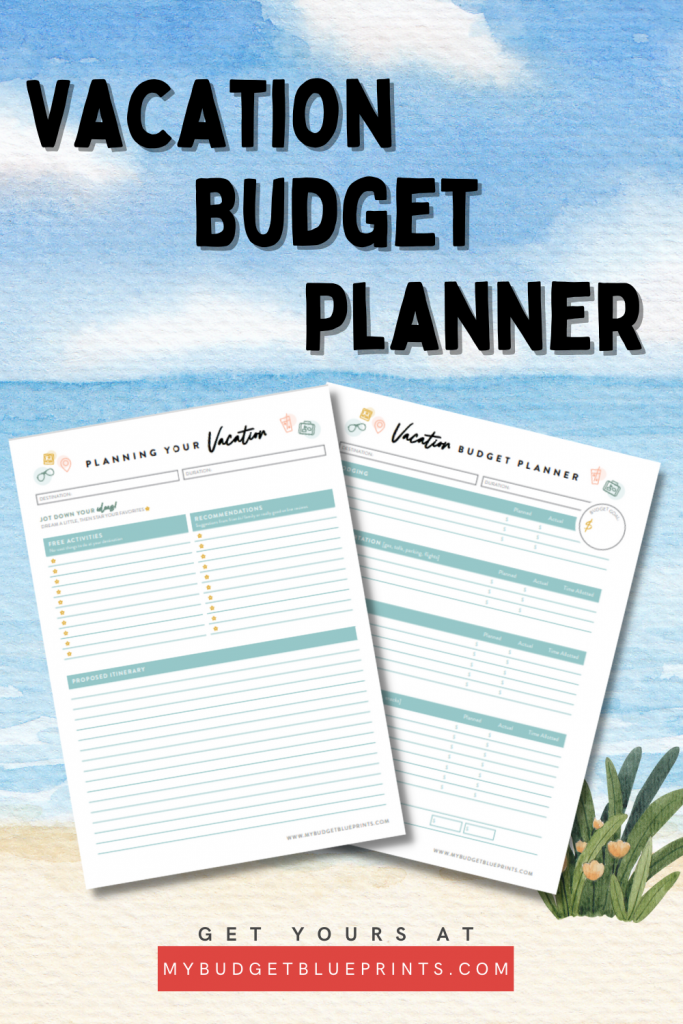 6 Steps to Budget for your Vacation:
1. Decide how much to spend.
Whether it's a weekend or an entire week somewhere extravagant, you need a budget. Your budget never goes on vacation, so it is important to evaluate how much you can spend and stick to it!
Consider this: Save for vacations in advance by using irregular savings accounts. Simply set up an automatic transfer from your checking to savings each month and earmark it for vacations. Since we travel almost every year in August to celebrate our anniversary, we set aside money each month for these trips. That way August doesn't sneak up and catch us unprepared to pay for a trip. Plus, because flights and lodging are often booked well in advance, that irregular savings account promises money in the bank to book early. 
Pro-tip: Some banks like Ally Bank let you create savings "buckets" to divvy up funds within one account. I love using Ally savings for this reason! Learn more here.
2. Map out travel expenses.
How are you getting from your house to your destination? Driving is often far less costly than flying, but don't forget to include pesky toll fees and road trip snacks in your budget. Flying somewhere far away? Those tiny airplane seats can eat up the majority of your travel budget. Additionally, where will you be staying? Airbnbs can be more budget-friendly than hotels, but they may lack desired amenities like airport transfers and free breakfasts.
Consider this: Where can you save on expenses? If you use rewards credit cards, are you able to use flight points or transfer them to a partner airline for an even better deal? (If you are new to using credit card rewards for travel, listen to this podcast. It blew my mind.)
Consider this: Who are you traveling with? If traveling with friends or family, consider sharing an Airbnb or having all the kids bunk together in one hotel room. Do you know someone with a vacation property? Can you work out a "friends and family" rate to stay at someone's place.
3. Re-evaluate your budget.
After you price checked flights and hotels, ask if there is enough left in your budget for food, activities, and shopping. If just getting to the destination is eating the majority of your budget, consider a different location or saving a little more per month for the trip. The caveat to this, of course, is if you are booking an all-inclusive vacation — then you'll have minimal expenses after you book the lodging.
4. Plan excursions and activities.
This is where things can get pricey. It is so tempting to do all the things while you are in a new place, but most likely that won't agree with your wallet. Consider looking at each day individually and picking one paid excursion or activity and then a free or low-cost event as well. For example, say you want to take a guided city tour in the morning, and then in the afternoon just spend the day exploring by the riverwalk. This gives you some of the "experiences" but also exploration! (Fun idea: Try a scavenger hunt to get to know the city!) Whatever paid activity you choose, most websites outline exactly how much it is per person and any included fees such as taxes, parking, and food costs. This research will be helpful to keep your cost estimates realistic.
When we went on our honeymoon cruise, it was so tempting to do all of the exotic activities. We chose to do one excursion per port in the mornings and then spend the rest of the day exploring. I don't think I would have stumbled upon the best quesadilla of my life in the Dominican Republic if we hadn't decided to explore after our ziplining adventure. Some of the best memories are unplanned!
5. Estimate food costs.
Thanks to the internet, it's pretty easy to go to a new place with some sort of idea regarding where you'll eat and how much it will cost. You'll want to include everything you might munch on during the trip. Beyond breakfast, lunch, and dinner, consider other consumables like snacks and drinks, along with any accompanying gratuities… If you like to experience the world through your tastebuds, you might include a healthy buffer for this category.
Consider this: Rotate your meal types each day. You could plan one or two nice dinners for the week, then choose a more modestly priced restaurant for the other nights. Could you pack picnic lunches or sandwiches for fuel while out at the zoo? How many times will you let the kids get a special treat at the amusement park? How many $6 bottles of water do you anticipate needing? (Definitely consider bringing your own water! Amusement park drinks are outrageous!)
6. Wrapping it up.
By this point, you've done extensive research on your location: how to get there, what to eat, and what to do. Take all of these exciting plans and map out your itinerary and anticipated daily cost on your vacation planner.
You've done the hard part of planning out the trip and cutting costs where you can. Now, stick to it (and enjoy your trip)! Track your expenses while you go so you don't overspend. The easiest way to do this is by utilizing cash envelopes for your discretionary expenses. You can break it up by category or, for ease and safety of carrying the cash, divide expenses into daily envelopes. Simply use your vacation planner and itinerary to estimate your daily costs and set aside cash for that day in an envelope. In the morning, grab that day's cash and you're off! Alternatively, download an app to keep watch of your expenses on credit and debit cards. 
NOTE: Remember to be safe while carrying around cash. Never carry more than you need, and store the envelopes in multiple locations like your wallet, your spouse's backpack, etc. Store the excess in the safe in your room or in a hidden location. Be aware of your location and surroundings.
Now, it's time to pack!
Don't forget to grab your Vacation Budget Planner here! Let us know in the comments where you'll be vacationing next and how you'll stay on budget.